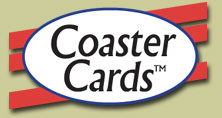 Coaster Cards Checklist

When we started this project, we wanted to have one coaster from
as many different parks from around the world as we could get.
We sent out invitations to nearly every park in the United States
and many in other countries. Here is the list of the cards in the set.
It will show you which parks were willing to participate in the project
along with their coasters that are in the set.



Non-Sport.com : Main : Samples : Specs : Checklist : Promos : Order
&copy 2001 NostalgiCards™
All Rights Reserved