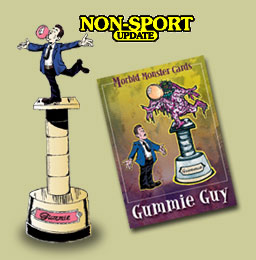 Most everyone knows by now that we did the "Gummie" card for 2000 for Non-Sport Update Magazine. Many of you may not have noticed that Morbid Monsters Series I actually came in second place for most creative set of 2000 (edging out Buffy The Vampire Slayer: Reflections). A special thanks goes out to everyone out there who voted for us. Being a very small producer of cards it's nice to know all our hard work is appreciated.


SPECIAL ANNOUNCEMENT


At the end of 2001 we recycled 1,500 of the original 2,500 box run of Morbid Monters Series I because of tax reasons. We were sad to see them go, but this will make the remaining cards even rarer! Thanks to all of you who supported us!


SPECIAL ANNOUNCEMENT II


As of August 1st 2003 - we are completely sold out of Morbid Monster series I cases and boxes. Thanks again to all of you who supported us!